EVID C8.2LP
8" two-way coaxial ceiling loudspeaker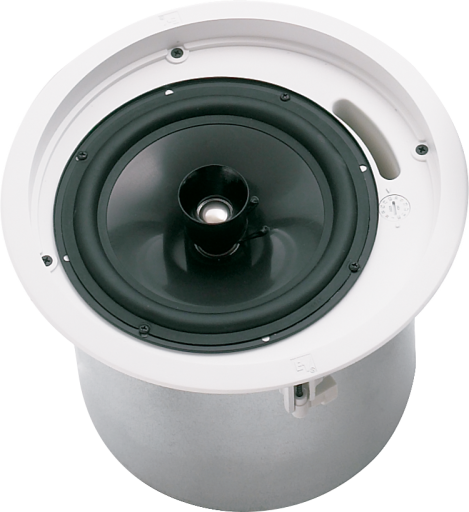 Low Profile 8" coaxial two-way
Waveguide coupled Ti Tweeter
Full bandwidth overload protection
Front baffle wattage tap adjustment
Integrated low loss matching transformer allows for either 70v/100v or 8-ohm operation
Includes tile bridge and mounting ring for easy installation
Integrated ported enclosure for extended bass response
Ideal for ceiling spaces with tight clearance UL and CE listed
The Electro-Voice EVID C8.2LP loudspeaker system is a complete two-way ceiling loudspeaker in a low profile package.
The package consists of a bezel assembly, grille, rear enclosure, 8-inch coax two-way loudspeaker and internal line-matching transformer. The loudspeaker features a waveguide coupled titanium coated dome tweeter. The EVID C8.2LP loudspeaker utilizes a 2nd order crossover network at 2.5 kHz, with a comprehensive protection circuit to protect the network, woofer, and tweeter drivers from excessive power levels. The C8.2LP utilizes a transformer that offers a selection of 1.88 (70-V only), 3.75, 7.5, 15 or 30 watts delivered to the loudspeaker system using either 70-V or 100-V lines, or 8 ohm bypass. Selection is via a convenient switch on the front baffle. The perforated grille is finished in semi-gloss white powder-coated enamel. The baffle and bezel are constructed from UL 94V-0 rated ABS. The rear enclosure is constructed from zinc-plated, heavy gauge steel.
The low profile enclosure makes it easy to mount in tight spaces.
A rear cover, with provisions for a junction box fitting, provides access to a 4-pin terminal block that allows direct connection to the speaker with 12 gauge wire and provides pass through to additional speakers. A tile bridge is included for safe suspension of the C8.2LP ceiling systems in a drop ceiling that uses mineral wool, or other fiber-based ceiling tiles. The EVID line of ceiling speakers has been designed to work together as a complete system in a wide range of different ceiling constructions. They provide wide dispersion, high-efficiency, high-maximum output, ease of installation, and wide-range reproduction of music or voice.
Max Calculated SPL
60 watt Transformer coupled @ 4 meters: 92 dB 100 watt Direct coupled @ 4 meters: 95 dBdB
HF Transducer
1 in (25 mm) Ti Mylar laminate
LF Transducer
8 in. (200 mm) Polypropylene cone
| | |
| --- | --- |
| Grille | Perforated powder coated steel wit safety tether |
| Dimensions (H x Dia) | 7.0" x 10.6 (178mm x 270mm) |
| Cutout Size | 10.75" (272mm) |
| Net Weight | 11.0 lbs (5.0 kg) |
| Shipping Weight:(pair) | 24.0 lbs (11.0 kg) |
| Support Hardware | Tile bridge, backing plate support cutout template, paint shield |
| Freq. Response (-10 dB) | 50 Hz - 20 kHzdb |
| Coverage (Conical) | 110° |
| Power Handling | 75 W Cont. / 300 W Peak |
| Sensitivity (SPL 1W/1m) | 91 dB |
| Network | Network and transducers protected 12 dB/oct 2.6 kHz |
| Safety Agency Ratings | UL 1480 Safe for use in air handling spaces per UL 2043 |
| Impedance | 8 Ohms nominal (transformer bypass) |
| Transformer Taps | 70V: 1.88, 3.75, 7.5, 15 or 30 100V: 3.75, 7.5, 15 or 30W Bypass: 8 Ohms |
| Connectors | Phoenix type removable, with scre terminals and "loop-thru", accepts 12 ga wire |
| Enclosure | Baffle- UL 94V-O rated AB Backcan-Zinc plated steel |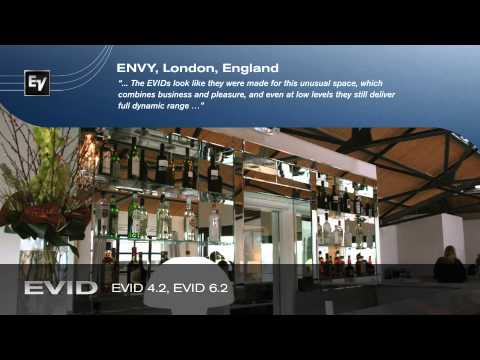 EVID Overview
EVID Speaker Line & PA Series @ InfoComm 2009
As part of The Bosch Group, Electro-Voice is dedicated to loudspeakers and microphones and Dynacord is dedicated to amplifiers, DSP and software. The depth of our shared R&D resources are geared towards bringing customers the best of both worlds: state-of-the-art loudspeaker and microphone technology from Electro-Voice, and world-class electronics engineering and software design from Dynacord.
For optimal sound system performance, Electro-Voice recommends the following amplifiers.


Dynacord C Series

Two-channel power amplifiers for fixed install


Dynacord V Series

Multi-channel power amplifier for commercial installations


Electro-Voice CPS Series

CPS contractor precision series amplifiers


Electro-Voice PA Series

PA series multi-channel power for fixed install applications

Two-Channel
✓
Multi-Channel
✓
✓
✓
powerTANK
✓
DSP
✓
Direct Drive
✓
✓
✓
OMNEO (Dante, OCA)
Installation
✓
✓
✓
✓
Warranty & After Sales Programs