PREVIEW Loudspeaker Software
Quick, precise coverage prediction for EV loudspeakers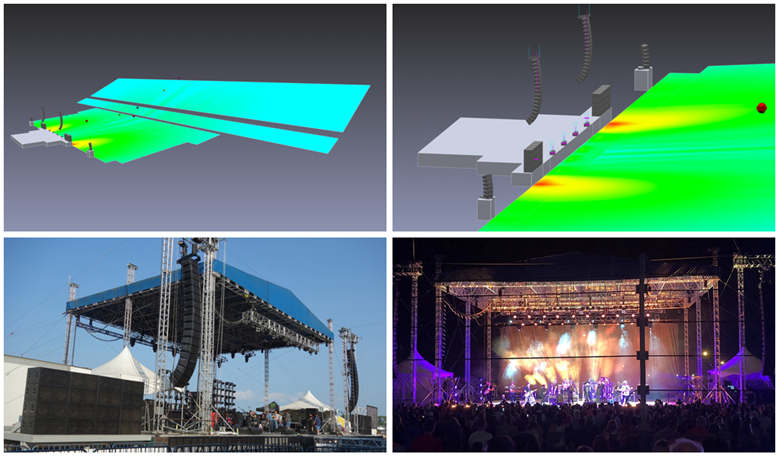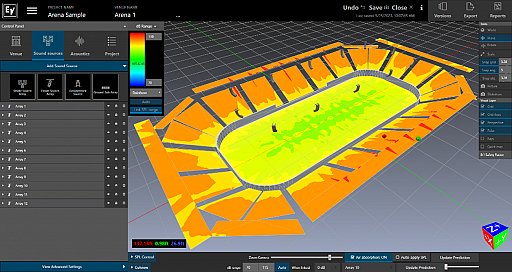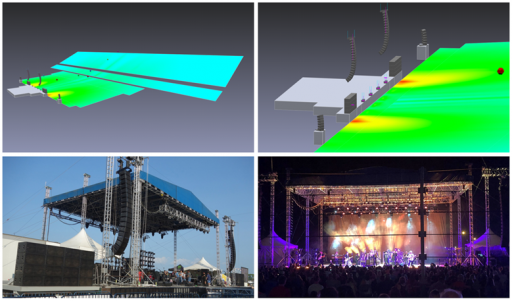 Easy, exact sound system setup with visualizations of coverage, SPL and frequency response
Full-color 3D interface with user-friendly, flexible tools and streamlined workflow
Venue geometry import and construction wizards
Precise mechanical load calculations
Array aiming and auto-splay optimizer
Spectrogram shows how levels at each frequency change with distance
Virtual microphones predict the frequency response anywhere in the venue
Report generation with detailed acoustical and mechanical information
PREVIEW Loudspeaker Software is a tool to help you select and set up Electro-Voice loudspeakers for the best coverage in any venue. The full-color 3D interface helps specifiers, designers and audio engineers to quickly find the optimum loudspeaker, amplifier drive and delay requirements, and other factors that will ensure that both line-array and point-source loudspeakers deliver the best possible performance in every deployment. For line-array designs, PREVIEW will only allow mechanically valid combinations of cabinets and rigging hardware, depending on the selected safety factor.
What's New in PREVIEW 2.1
• Support for EVC and MFX point-source loudspeakers
• New Venue Wizard with graphical guide accepts values from rangefinder measurements
• Revised and improved user manual in PDF format
• Bug fixes and usability improvements in response to user feedback
PREVIEW 2.1 supports these Electro-Voice Loudspeaker Series:
• X2/X2i
• X1/X1i
• XLC/XLCi
• XLD
• XLE
• EVA
• MTS
• MFX
• EVC
System Requirements
Supported Operating Systems
Windows 10, Windows 8.1 or Windows 8*1
(Professional/Enterprise/Ultimate Editions)
macOS Catalina (10.15.x)
macOS Big Sur (11.x.x)
macOS Monterey (12.x.x)
CPU
Minimum: 4 cores; Recommended: i7 8 cores
Apple M1 CPUs are supported via Rosetta 2
Memory
8 GB RAM required; 32 GB RAM recommended
Prerequisites
For Windows Installations: .NET Framework and Visual C++ redistributable are installation prerequisites
For Mac OS Installations: .NET Framework (Mono Distribution) is a prerequisite. The component automatically references its own custom distribution without conflicting with existing installations.
HDD
We recommend a solid state hard drive (SSD) for the best I/O performance.
PREVIEW and the operating system should both be installed on the SSD.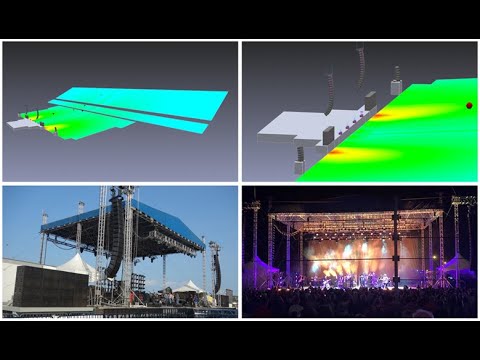 What's New in PREVIEW 2.1
PREVIEW Loudspeaker Software: Software Interface Overview
Software, Firmware & Design Tools
PREVIEW Loudspeaker Software
Warranty & After Sales Programs