EVID-PC6.2
6½" 2-way ceiling speaker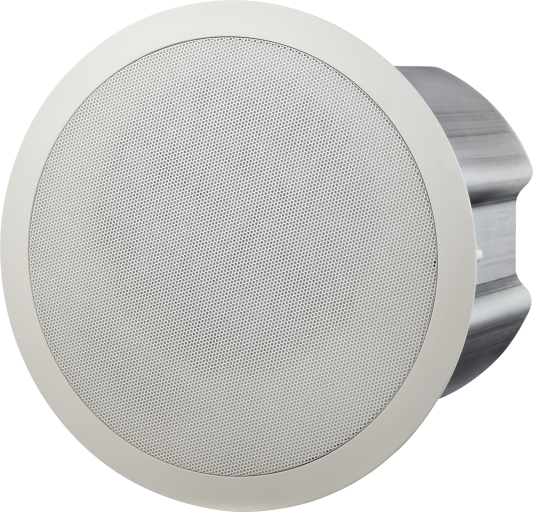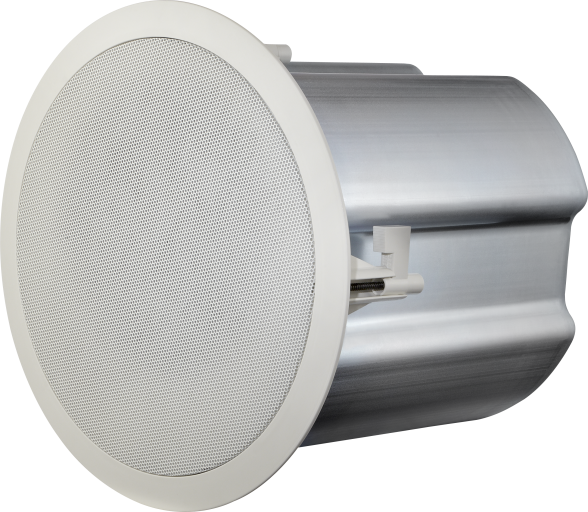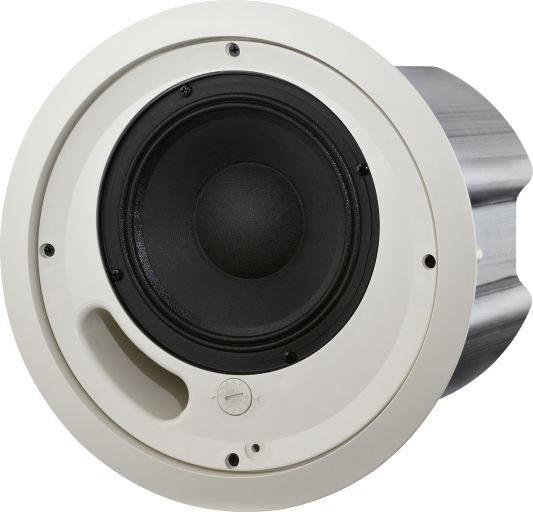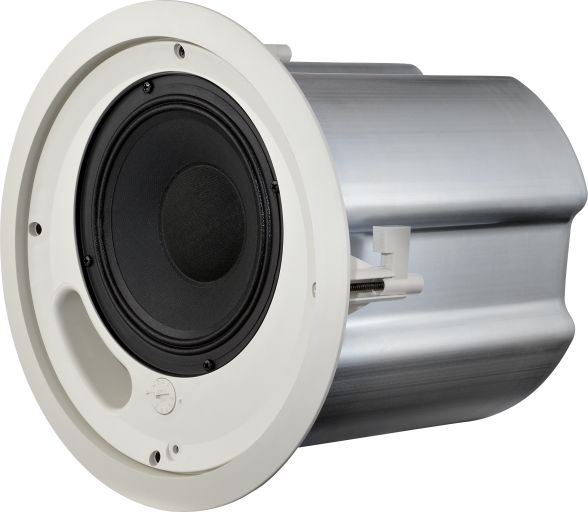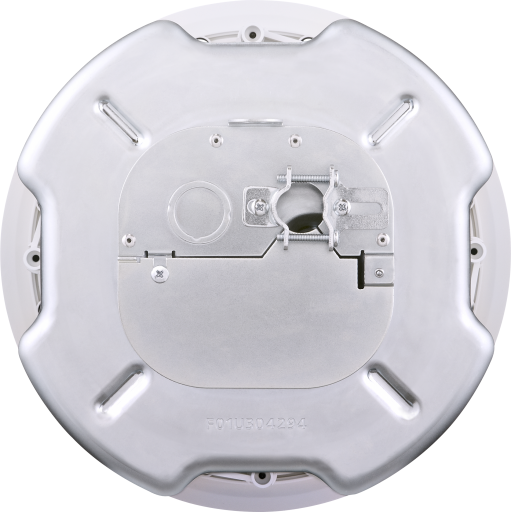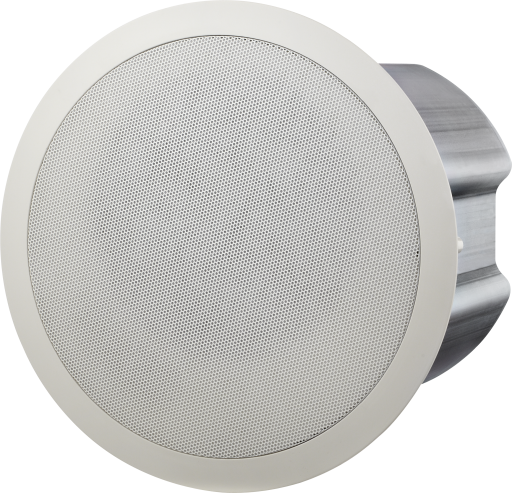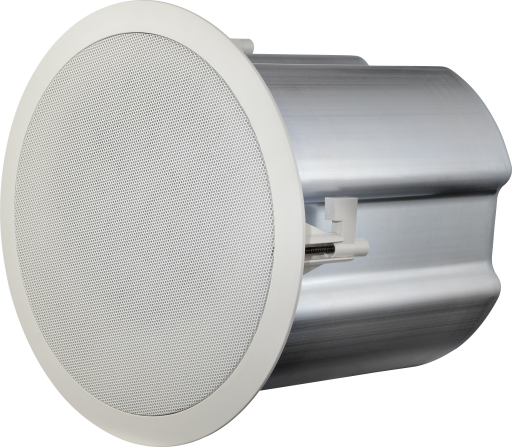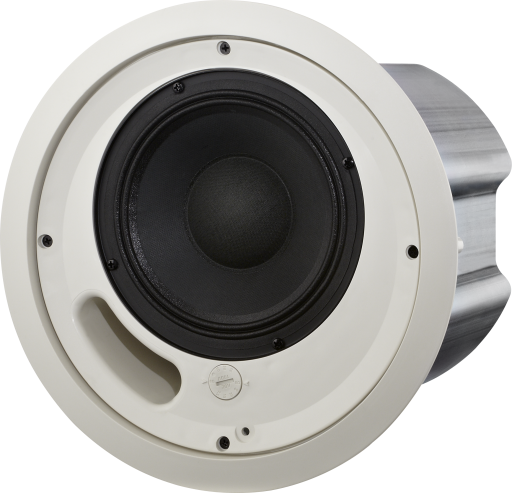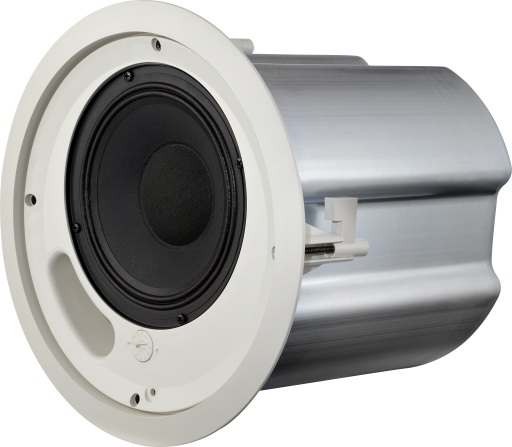 High-performance EV-engineered compression driver. Ultra-wide HF dispersion provides extremely even coverage through room.
High-excursion woofer provides dramatic low-end frequency extension. Reinforced steel back can provides rigid enclosure to minimize acoustic loss.
Four-point clamp mechanism and integrated mounting legs enable quick ceiling installation.
Detachable pass-thru Phoenix-style signal connections simplify installation wiring. Tap selector with 8Ω / 70 V / 100 V operation.
Fully reinforced ABS UL-rated baffle ensures long life. Fully compliant with EN 54 (pending), UL 1480, and 2043 standards.
The PC6.2 (6.5-inch two-way) is designed to be the most advanced ceiling speaker available today, with superior performance across every detail. Each self-contained unit features a dedicated compression driver for enhanced high-frequency performance and coverage control in comparison to current EVID ceiling speaker offerings. Simplified wiring and innovative new integrated mounting hardware allows for quicker installation into a wide range of ceiling cavities and construction formats.
The model adds increased power handling (100 W), higher output (113 dB / 114 dB), and wider coverage angles (120˚ / 105˚) to the user-friendly installation and low-profile looks that contractors expect from EVID products, complimenting the range as a new, high-end option. Ideal for retail spaces, restaurants, theater and stadium concourses, shopping malls, and a wide range of applications where premium-quality distributed audio is required.
Frequency Range (-10 db)
50 Hz – 20 kHz
Nominal Coverage (Conical)
100°
Power Handling
200 W Program, 100 W Pink Noise
Sensitivity (SPL 1 W/1 m)
87 dB
Max Calculated SPL
107 dB Avg, 113 dB Peak
Impedance
10 ohms
LF Transducer
165 mm (6.5 in)
HF Transducer
35 mm Compression Driver
Transformer Taps
70V: 60W, 30W, 15W, 7.5W, 8 ohm
100V: 60W, 30W, 15W, 8 ohm
Connectors
Removable locking 4-pin (Phoenix)
2.5 mm (12 AWG) max wire size
Enclosure
ABS Plastic (UL94V-O) Baffle, steel
back can
Grille
Color matched steel grille with
fabric
Dimensions (H x Dia)
260 mm x 280 mm (10.2 in x 11.0
in)
Cutout Size
248 mm (9.76 in)
Net Weight
7.0 kg (15.4 lb)
Shipping Weight
(pair)
16.83 kg (37.1 lb)
Support Hardware
C Ring, Tile Bridge
Approvals
UL1480, 2043; CE
As part of The Bosch Group, Electro-Voice is dedicated to loudspeakers and microphones and Dynacord is dedicated to amplifiers, DSP and software. The depth of our shared R&D resources are geared towards bringing customers the best of both worlds: state-of-the-art loudspeaker and microphone technology from Electro-Voice, and world-class electronics engineering and software design from Dynacord.
For optimal sound system performance, Electro-Voice recommends the following amplifiers.


Dynacord C Series

Two-channel power amplifiers for fixed install


Dynacord V Series

Multi-channel power amplifier for commercial installations


Electro-Voice CPS Series

CPS contractor precision series amplifiers


Electro-Voice PA Series

PA series multi-channel power for fixed install applications

Two-Channel
✓
Multi-Channel
✓
✓
✓
powerTANK
✓
DSP
✓
Direct Drive
✓
✓
✓
OMNEO (Dante, OCA)
Installation
✓
✓
✓
✓
Warranty & After Sales Programs