RE3-RX
Diversity receiver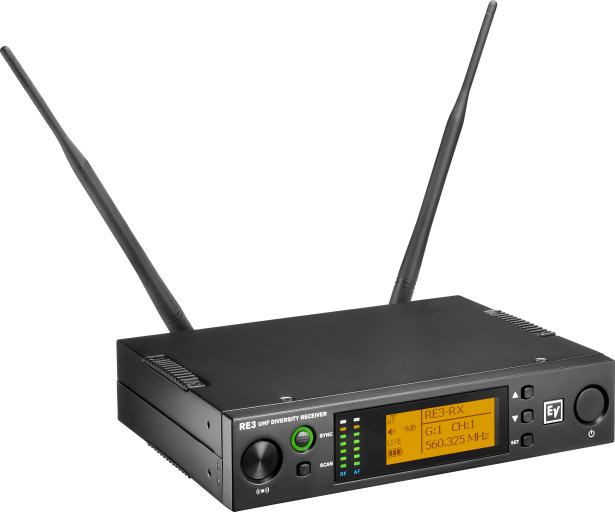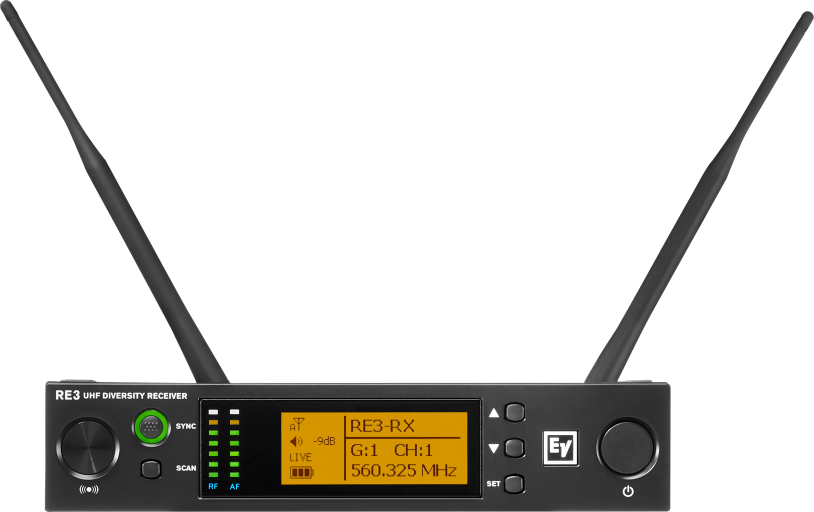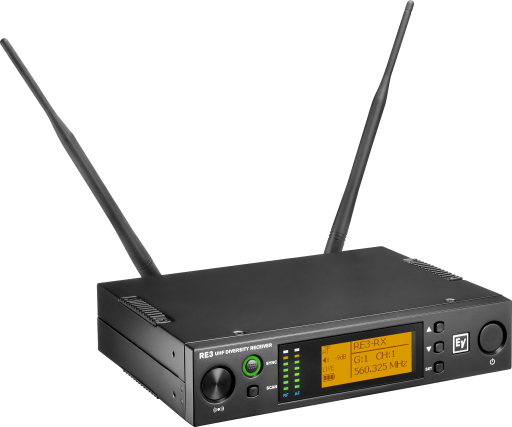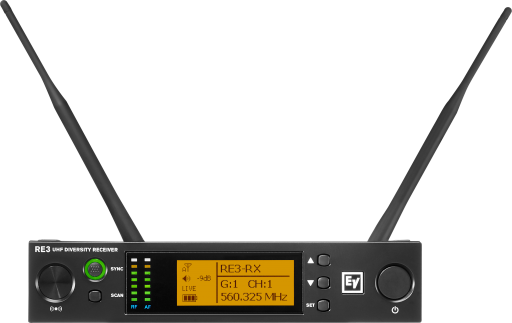 Diversity reception minimizes dropouts
Frequency scanning for selecting open frequencies
Sync function links transmitter to receiver for easy setup
Up to 36 MHz tuning bandwidth (band specific) for trouble-free operation
Easy-to-read LCD display
UHF wireless diversity receiver featuring clear frequency scanning, wireless synchronization to transmitter, balanced XLR and unbalanced ¼" TRS outputs.
The receiver pairs perfectly with any RE3-HHT handheld or RE3-BPT bodypack transmitter within the same band. Setup is quick and simple using the RE3 clear frequency scan and sync functions, and the radio link between the robust handheld transmitter and diversity receiver delivers rock-solid system performance.
The RE3-RX is a professional rack-mountable, ½ space diversity receiver. Designed to function as the control center for an RE3 wireless set, it features frequency scanning and synchronizing, as well as full transmitter control settings which synchronize to a mated transmitter.
The diversity reception technology minimizes the chances of signal dropouts by providing two separate antenna locations which are electronically chosen moment-by-moment based on signal strength and stability.
The easy-to-use frequency scanning function simplifies locating and tuning to a clear operating frequency. The sync function wirelessly synchronizes all operating parameters to the mated transmitter.
The wide tuning bandwidth provides access to a wide range of frequencies, selectable in 25kHz steps for trouble-free operation of single and multi-channel systems.
The easy-to-read LCD display provides vivid viewing of all menus and operating parameters.
Frequency Oscillation Mode:
Phase-locked loop (PLL)
Carrier Frequency Range:
470 - 865 MHz (tuning bandwidth is band-dependent)
Sync Frequency:
Ultrasonic 40 kHz
Diversity:
Antenna diversity
Bandwidth:
36MHz
Signal/Noise Ratio:
>100dB(A)
Total Harmonic Distortion (Thd):
<0.6%@1kHz
Receiving Sensitivity:
-81dBm for -12dB SINAD
Frequency Response:
63Hz~16kHz±2dB (BPT) 51Hz~16kHz±2dB (HHT)
Antenna Type:
Detachable ½ wave with BNC connector
Antenna Booster Power:
DC12 - 15V/100mA
Function Display By:
LCD
Contents Of Display:
Group, channel, frequency, antenna A/B, transmitter battery level, transmitter status (mute, live, or no sync), output level attenuation, AF indication, RF indication, key lock indicator.
Control Functions:
Power, scan, frequency, group, channel, squelch, TX sensitivity, TX attenuation, TX RF power, TX auto off, TX key lock, TX display info, TX sync configuration, RX output volume, RX output level, RX antenna booster power, RX key lock, RX display contrast, RX display brightness, RX system reset.
Sync Data Options:
Frequency, group, channel, sensitivity level, attenuation status, RF power, auto off status, key lock status, transmitter display (freq or Gp/Ch)
Audio Frequency Output Level:
Ref:±22.5kHz  Dev@1kHz Tone
¼" (6.3mm) Phone Jack:-10dBV
XLR  Jack:-4dBV(Line)、-24dBV(MIC)
Audio Frequency Output Impedance:
240Ω (unbalanced) 1400Ω (balanced)
Squelch and noise muting:
Noise muting and tone code locking
 Output Ports:
1 x balanced XLRM jack 1 x unbalanced ¼" TS (6.3mm) jack
Power Supply:
DC12~15V/500mA
Finish:
Black polyurethane paint
Dimensions:
Width: 8.27 inch (210mm)
Height: (with feet attached) 1.85 inch (47mm)
Height: (without feet attached) 1.73 inch (44mm)
Depth: (including antenna jack) 6.89 inch (175mm)
Depth: (not including antenna jack) 6.1 inch (155mm)
Net Weight:
2.71 lbs [1.23 kg]
Gross Weight:
3.28 lbs [1.49 kg]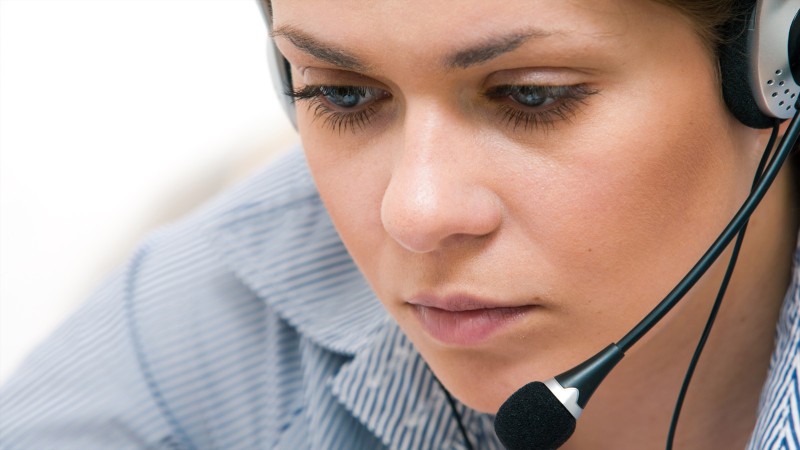 Dynacord & Electro-Voice, together with our certified partners, are ready to help support you through planning, purchase, and setup. Services available through our network of highly-qualified associates and partners may include:
System Design
Installation
Programming & Commissioning
Warranty & After Sales Programs